Nursery
From Tori Wiki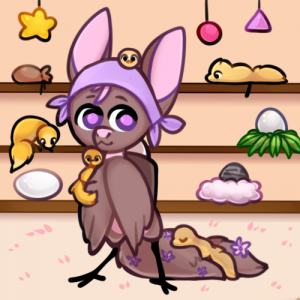 The Nursery is a location run by Lavender where you can buy, pat, and hatch Eggs into Chockins. It's a very useful location with several different features.
Nests
A nest is a spot within the nursery you can buy to place your eggs in. It is not an item and can not be sold. You can use materials to upgrade your nest to help your eggs hatch faster. There are several levels of nests, and each require different materials to make.
Patting
Once you've purchased a nest you can equip an egg to it, and then you'll be able to pat it and raise its percentage. An egg that's reached 100% can be hatched into a Chockin. You'll also receive an Eggshell for each egg you hatch.
You can also pat other people's nests, even if you don't have your own nest yet. You can either pat a specific person's nest, or pat any random nest. You can only pat a nest once an hour though.
How much an egg's hatching percentage is raised from each pat depends on several factors. The most significant factor is level: each upgrade raises the percent of each pat by 1%, with an overall maximum of 10% for each pat in normal conditions. Additionally, any random pat will give 20% regardless of nest level, and patting with a Brush of Chaos equipped will ignore both nest level and the random pat bonus and instead give a random percentage. Check the Brush of Chaos' page for specifics.
If you have a Dorya Heart you can do a Great Pat, which will use up the Dorya Heart and instantly bring an egg to 100%. Great Pats have no cooldown and are not affected by standard cooldown.
Care Points
Patting doesn't just raise an egg's percentage; it also gives you a Care Point (CP). Care Points are the main currency used in the nursery, and can be spent on eggs and other items here.
Usually one pat only gives a single CP, but with a Brush equipped, you'll receive an extra CP. You will also receive four extra CP if you do a random pat that causes someone's egg to reach 100%. These bonuses stack, meaning a potential maximum of 6 CP per pat.
Nest Upgrades
Each level of nest, the percentage an egg equipped to this nest will gain, and the requirements for getting it are shown here.
Level
Nest
Effectiveness
Requirement
Level 0
A Spot
5% per pat
50 NP
Level 1
Grass Pile
6% per pat
Green Grass x10
Level 2
Bunch of Leaves
7% per pat
Leaves x20
Level 3
Classic Nest
8% per pat
Branch x10
Leaves x5
Level 4
Cotton Pile
9% per pat
Cotton x10
Leaves x2
Level 5
Warm Nest
10% per pat
Cotton Fabric x10
Commands
!!nest buy
Used to buy a nest.

!!nest equip (egg)
Places an egg in your nest.

!!nest unequip
Removes an egg from your nest, resetting its progress towards hatching.

!!nest upgrade
Upgrades your nest.

!!nest info
Shows information about your nest and your current egg's progress.

!!sweep
Sweeps the location if you have a Pretty Broom equipped. Check the Pretty Broom page for more information.

!!pat (me/username/random)
Pats an egg. Just !!pat will pat your own nest. !!pat (username) will pat that person's nest. !!pat random will pat a random person's nest. You can pat other players' eggs even when if you don't have your own nest. Only one pat per hour.

!!great pat
A better version of !!pat. Using !!great pat raises an egg to 100% and has no cooldown. Requires a Dorya Heart.

!!hatch
Hatches your own egg once it's reached 100%.

!!buy (amount) (item)
Used to buy items you want. (Examples: !!buy 1 random uncommon egg, !!buy 6 common egg, etc.)

Note: Commands are not case sensitive, so capitalization doesn't matter. Spelling does, however, so make sure to spell each item name exactly as is.
Available Items
All items found in the nursery are purchased for Care Points rather than the usual Nyam Points.
Name
Item
Price
Common Egg
5 CP
Brush
20 CP
Pretty Broom
40 CP
Random Uncommon Egg
20 CP
Cloud Egg
1/10 chance when buying a random uncommon egg
Crystal Egg
1/10 chance when buying a random uncommon egg
Egg of Nature
1/10 chance when buying a random uncommon egg
Egg with a Flower
1/10 chance when buying a random uncommon egg
Fur Egg
1/10 chance when buying a random uncommon egg
Hot Egg
1/10 chance when buying a random uncommon egg
Painted Egg
1/10 chance when buying a random uncommon egg
Stone Egg
1/10 chance when buying a random uncommon egg
Swamp Egg
1/10 chance when buying a random uncommon egg
Water Egg
1/10 chance when buying a random uncommon egg
Random Rare Egg
40 CP
Egg of the Darkness
1/5 chance when buying a random rare egg
Gold Egg
1/5 chance when buying a random rare egg
Mystery Egg
1/5 chance when buying a random rare egg
Pure Egg
1/5 chance when buying a random rare egg
Rainbow Egg
1/5 chance when buying a random rare egg