Planty Bros. Farm
From Tori Wiki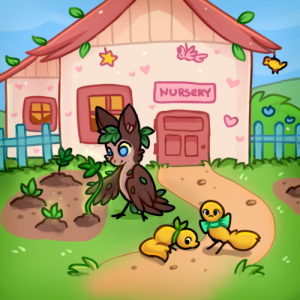 Planty Bros. Farm is a location where you can grow plants to get Fruit.
How to Use
Spots
The first thing you need to do is buy a spot. A spot is just a patch of dirt to grow plants on. You can have up to nine spots, and each one can only grow one plant at a time. Your first spot costs 10 Dirt to get, and the amount of dirt needed gets higher for each new spot.
| Spot # | Dirt Required |
| --- | --- |
| Spot 1 | 10 Dirt |
| Spot 2 | 20 Dirt |
| Spot 3 | 30 Dirt |
| Spot 4 | 40 Dirt |
| Spot 5 | 50 Dirt |
| Spot 6 | 80 Dirt |
| Spot 7 | 150 Dirt |
| Spot 8 | 250 Dirt |
| Spot 9 | 500 Dirt |
| Spot 10 | 9999 Dirt |
| Spot 11 | 99999999999 Dirt |
Growing Plants
Once you have at least one spot, you'll be able to grow plants from seeds. Seeds can be found from recycling fruits, or by identifying Unknown Seeds at the Non-existing Shop. If you have a seed, you can just plant it on a spot; after some amount of time it'll finish growing and you'll be able to harvest fruit from it. You can always see how much longer it will take for a harvest to be ready with the spot info command.
There are three types of plants: Trees, Bushes, and Crops. Trees and bushes take longer to grow, but will keep producing fruit until you clear it or chop it down. Crops grow faster, but need to be replanted after one harvest.
If you no longer want a specific plant to grow, you can clear it or chop it down. Clearing a plant out destroys it completely, and you will not get any items out of doing this. Chopping a tree or bush down requires having an Iron Axe in your inventory and can only be done when a harvest is ready, but will give you one last harvest of fruit as well as other items like Branches or Wood.
Recycling Fruit
Another important thing you can do here is recycle your fruits. Recycling a fruit removes it from your inventory and gives you seeds, and sometimes other items.
Commands
!!buy spot
Spends dirt to obtain a spot to plant seeds on. The dirt requirement for each spot is listed above.

!!spots info
Shows the current status of your spots and plants. Can also be shortened to just !!info.

!!plant (seed) on (spot number)
Plants a seed on an empty spot.

!!harvest (spot number)
Harvests fruit from a spot, as long as the fruit is ready for harvest.

!!chop (spot number)
Chops down a tree or bush to remove it from a spot. Can only be done when its ready for harvest, and gives more items than a normal harvest. Requires an Iron Axe.

!!clear (spot number)
Removes any plant from a spot. Can be done at any time, but does not give any items.

!!recycle (fruit)
Recycles a fruit to give you seeds, and sometimes other items.

!!sweep
Sweeps the farm if you have a Pretty Broom equipped. Check the Pretty Broom page for more information.
Note: Commands are not case sensitive, so capitalization doesn't matter. Spelling does, however, so make sure to spell each item name exactly as is.
Obtainable Items
Harvesting
Chopping
Recycling
Chockins
These Chockins can only be obtained by planting other Chockins!
Chockin Drops
These items can be obtained by planting Chockins!