Upgrades
From Tori Wiki
Upgrades are a way to unlock new powers and change a Torimori's appearance. Adding upgrades to a torimori allows it have features and qualities beyond the basic species anatomy.
How Upgrades Work
Currently, the only way to add upgrades to a torimori is by using Potions. To upgrade your torimori with a potion, first make an updated reference to show the new upgrade. This can either be a brand new reference or an edited version of its old one. Submit the updated reference to the masterlist along with a list of potions and upgrades used. Once it's been approved the potions will be used up, and the masterlist will be updated with the new upgrades.
You can also create a new torimori with upgrades already on it. Just draw the upgrades on its initial reference and submit it with a list of potions and upgrades. The approval process works the same either way.
One potion will usually only add one upgrade. Unexpected Mixes, however, are combinations of multiple upgrades and require multiple potions. Some potions affect upgrades in other ways; a Refresh Water S or Refresh Water M will remove the visual effects of upgrades, and a Potion of Change can replace an upgrade with another one of the same power.
It's also important to note that you can also combine upgrades in a variety of ways, even beyond mixes. You could use both Horns and the Metallic material to make metal horns, or Paws and Air to have transparent paws, or Archaeopteryx Hands and Fur to replace the wings with furry little arms. Feel free to experiment with any combinations you think would be fun.
Zones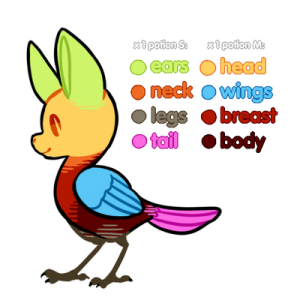 One very important thing to remember when planning to upgrade your torimori is the zones. There are eight different zones on a torimori, and one potion will only add one upgrade to one zone. Not all potions will work on all zones. A medium sized potion can upgrade any zone, but a small one can only upgrade the ears, neck, legs, and tail zones. You can not use two or small potions instead of a medium to upgrade a medium-only zone.
So for example: if you add the Fur material to the head, you'd need a Beast Potion M. Adding Fur to the ears too would be a different zone and would need its own potion, but it could be either a Beast Potion M or a Beast Potion S. And if you want to add Fur and Antlers to the head, then you would need to use two Beast Potion M, because that's two separate upgrades on a medium zone.
Upgrades List
All currently known upgrades are listed here. For more detailed information on each upgrade and its effects and limits, please check that upgrade's page.
Beast

Name
Upgrade
Power
Type
Short Description
Fur MT

Beast
Material
Replaces feathers with fur
Floppy Ears ATR

Beast
Attribute
Makes ears floppy
Antlers ATR

Beast
Attribute
Adds one pair of antlers
Turcockey ATR

Beast
Attribute
Adds a comb and/or wattle
Paws ATR

Beast
Attribute
Replaces feet with paws
Fluffy Tail ATR

Beast
Attribute
Replaces the tail with a furry tail
Rat Tail ATR

Beast
Attribute
Replaces the tail with a rat tail
Name
Upgrade
Power
Type
Short Description

Weaver

Name
Upgrade
Power
Type
Short Description
Cotton MT

Weaver
Material
Replaces feathers with cotton
Cloth MT

Weaver
Material
Transforms parts into fabric
Cobweb ATR

Weaver
Attribute
Adds spider webs, and can also replace parts with it
Cotton Tail ATR

Weaver
Attribute
Replaces the tail with a cotton tail
Living Fabric ATR

Weaver
Attribute
Adds extra moveable fabric bits
Name
Upgrade
Power
Type
Short Description

Ancient

Name
Upgrade
Power
Type
Short Description
Scales MT

Ancient
Material
Replaces feathers with scales
Bones MT

Ancient
Material
Removes skin layer
Saber Fangs ATR

Ancient
Attribute
Adds very long fangs
Horns ATR

Ancient
Attribute
Adds one pair of horns
Spikes ATR

Ancient
Attribute
Adds spikes
Archaeopteryx Wings ATR

Ancient
Attribute
Adds hands to the wings
Dragon Wings ATR

Ancient
Attribute
Replaces wings with dragon wings
Raptor Legs ATR

Ancient
Attribute
Replaces feet with raptor legs
Lizard Tail ATR

Ancient
Attribute
Replaces the tail with a long lizard tail
Name
Upgrade
Power
Type
Short Description

Sage

Name
Upgrade
Power
Type
Short Description
Oracle Eye ATR

Sage
Attribute
Adds one extra eye
Nekomata Tail ATR

Sage
Attribute
Replaces the tail with a split tail, or two tails
Symbols ATR

Sage
Attribute
Adds a glowing symbol
Floating Essence ATR

Sage
Attribute
Adds magic essence that floats around
Unihorn ATR

Sage
Attribute
Adds a unicorn horn
Name
Upgrade
Power
Type
Short Description

Aura

Name
Upgrade
Power
Type
Short Description
Nimbus ATR

Aura
Attribute
Adds a glowing halo
Shining Aura ATR

Aura
Attribute
Adds a glowing aura around the torimori
Shining Orbits ATR

Aura
Attribute
Adds glowing rings
Name
Upgrade
Power
Type
Short Description

Multi

Name
Upgrade
Power
Type
Short Description
Prismatic Material MT

Multi
Material
Adds the ability to change colors and markings
Extra Ears ATR

Multi
Attribute
Adds a pair of extra ears
Extra Eyes ATR

Multi
Attribute
Adds one or two extra eyes
Extra Wings ATR

Multi
Attribute
Adds one pair of extra wings
Name
Upgrade
Power
Type
Short Description

Air

Name
Upgrade
Power
Type
Short Description
Air MT

Air
Material
Makes things transparent
Cloud MT

Air
Material
Transforms parts into clouds
Smoke MT

Air
Material
Transforms parts into smoke
Weather Cloud ATR

Air
Attribute
Adds a cloud that floats around
Dragon Whiskers ATR

Air
Attribute
Adds long whiskers
Tiny Wings ATR

Air
Attribute
Adds a pair of tiny wings
Name
Upgrade
Power
Type
Short Description

Fire

Name
Upgrade
Power
Type
Short Description
Fire MT

Fire
Material
Transforms parts into fire
Name
Upgrade
Power
Type
Short Description

Water

Name
Upgrade
Power
Type
Short Description
Water MT

Water
Material
Transforms parts into water
Fish Fins ATR

Water
Attribute
Adds or replaces parts with fins
Coral ATR

Water
Attribute
Adds or replaces parts with coral
Bubbles ATR

Water
Attribute
Adds bubbles that float around
Anemones ATR

Water
Attribute
Adds anemones
Fish Tail ATR

Water
Attribute
Replaces the tail with a fish tail
Tentacles ATR

Water
Attribute
Adds tentacles
Webbed Feets ATR

Water
Attribute
Replaces feet with webbed feet
Name
Upgrade
Power
Type
Short Description

Light

Name
Upgrade
Power
Type
Short Description
Light MT

Light
Material
Adds the ability to glow
Name
Upgrade
Power
Type
Short Description

Shadow

Name
Upgrade
Power
Type
Short Description
Shadow MT

Shadow
Material
Transforms parts into shadow
Monster Eyes ATR

Shadow
Attribute
Adds extra eyes to any part
Monster Mouth ATR

Shadow
Attribute
Adds one monster mouth to any part
Shadow Twin ATR

Shadow
Attribute
Brings the torimori's shadow to life
Phantom Arm ATR

Shadow
Attribute
Adds any amount of shadow arms
Chaotic Displacement ATR

Shadow
Attribute
Displaces body parts to other places on the body
Name
Upgrade
Power
Type
Short Description

Insect

Name
Upgrade
Power
Type
Short Description
Chitin MT

Insect
Material
Replaces skin with chitin
Melted Material MT

Insect
Material
Transforms parts into slime
Antennas ATR

Insect
Attribute
Adds one pair of antennae
Compound Eyes ATR

Insect
Attribute
Replaces eyes with compound eyes
Mandibles ATR

Insect
Attribute
Adds mandibles to the mouth
Insect Wings ATR

Insect
Attribute
Replaces wings with transparent insect wings
Butterfly Wings ATR

Insect
Attribute
Replaces wings with butterfly wings
Insect Butt ATR

Insect
Attribute
Replaces the tail with a segmented insect tail, with or without a stinger
Insect Legs ATR

Insect
Attribute
Adds one pair of insect legs
Name
Upgrade
Power
Type
Short Description

Flora

Name
Upgrade
Power
Type
Short Description
Flora MT

Flora
Material
Makes things grow from the torimori
Living Plants ATR

Flora
Attribute
Adds moveable plants
Name
Upgrade
Power
Type
Short Description

Crystal

Name
Upgrade
Power
Type
Short Description
Icy MT

Crystal
Material
Transforms parts into glassy crystal
Metallic MT

Crystal
Material
Transforms parts into metal
Crystals ATR

Crystal
Attribute
Adds crystals
Name
Upgrade
Power
Type
Short Description

Unexpected Mixes

Name
Upgrade
Power
Type
Short Description
Fiery Shine MIX

Aura + Fire
Mix
Adds a fiery aura around the torimori
Lightnings MIX

Aura + Air
Mix
Adds lightning around the torimori
Sparkles MIX

Aura + Light
Mix
Adds sparkles around the torimori
Living Tree MIX

Flora + Flora
Mix
Adds an entire tree
Hair MIX

Beast + Flora
Mix
Adds hair
Snowy Aura MIX

Aura + Crystal
Mix
Adds a snowy aura around the torimori
Kitsune Tail MIX

Sage + Multi
Mix
Replaces the tail with up to nine fluffy tails
Floating Parts MIX

Shadow + Sage
Mix
Separates parts from the body and makes them float
The Discord MIX

Shadow + Multi + Sage + Aura
Mix
Makes parts glitchy
Name
Upgrade
Power
Type
Short Description
Fishbone Horns MIX

Ancient + Water
Mix
Adds spiny fin-like horns
Swamp MIX

Flora + Insect
Mix
Adds or transforms parts into a swampy mess
Flora Aura MIX

Flora + Aura
Mix
Adds a flora aura around the torimori
Symbols Aura MIX

Aura + Sage
Mix
Adds an aura of symbols around the torimori
Insect Aura MIX

Aura + Insect
Mix
Adds an insect aura around the torimori
Shadow Aura MIX

Aura + Shadow
Mix
Adds a shadowy aura around the torimori
Morphing MIX

Shadow + Multi
Mix
Adds the ability to shapeshift and change colors/patterns
Animal Aura MIX

Aura + Shadow + Beast
Mix
Adds an aura of animal souls around the torimori
Name
Upgrade
Power
Type
Short Description