Relationships
From Tori Wiki
Relationships is the system that allows to raise friendship level with certain NPCs. Every new level of relationship gives an extra reward (sometimes unique) and a piece of story part, that character sends you by messages.
To start relationships, you should send First Impression to torimori you like. You can do that in Chibitori Post Office location by writing a command Gift First Impression to NPC_name (e.g. Gift First Impression to Tori Assistant)
Relationship Level
After First Impression gifted - a status will be Stranger.
There are 5 levels of friendship, each requires certain amount of gift points to gain a new level.
Stranger (next: 0/30)
Ally (next: 0/70)
Friend (next: 0/100)
Best Friend (next: 0/200)
Soul Mate (next: 0/100000)
After level up - status will be changed for the next one, and rel points will be nullified. So, for Ally status you should get 30 points, for Friend - 100 points total, for Best Friend - 200, and for Soul Mate status, you should get 400 relationship points in total.
Tactics
Universal items that are in Favorite category (+10 points) - usually hard to obtain. (Like Red Hearts that you can get from events rarely) So, usually you are focused on NPC Preferences and their own favorite/love items, or universal Like/Pretty items that are easier to find.
If you will send Favorite items every day - you'll reach Soul Mate status for 34 days; Love items - 50 days, Like items - 80 days, and Pretty items - 134 days. It's not really resultative to send Neutral items, unless you have nothing else to gift.
Gift Points
Each item has their own "gift power". Most of items are Universal and give the same amount of points to any NPC. However, there are also some exceptions. Depends on NPC and their preferences, certain items will give more or less points than usual.
Universal
Favorite (12 points)

Love (8 points)

Like (5 points)

Any Plush item
Pretty (3 points)
Any Flower item
(except for Rainbow Flower)
Any Candy item
(except for Seasonal Candies)
Any Chockin Shape
Neutral (1 point)
Seasonal Candies
Anything Else
NPC available for Friendship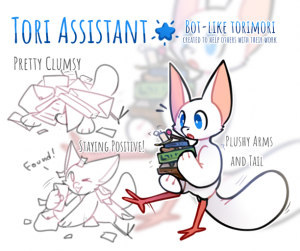 Tori Assistant
Tori Assistant is very first one and also popular one who you can get friends. He is a hard-worker tori that's always staying positive and cute, but actually worries that he misses something important. He likes plushes and always tries to do his best!
Tactics
Tori Assistant will happily take any Plush items that can be found in Chests with 20% chance (plushy charms). So, buy a bunch of shovels, dig for some chests in location with higher chance to get this type of chest (depends on the season), and open them with keys.
In Nursery - you can hatch Eggs with a Flower to get Pink Bow (30%). It also drops Pinkish Flowers that are in universal "Like" category, so they are helpful for your feauture relationships.
In addition - you can explore/art explore Meadows to get Pom Fruits (35%).
One Pom Fruit gives you x2 Cotton that's equal to x4 Cotton Thread, so, 2,5 of Pom Fruit will be equal to x1 Cotton Fabric (requires x10 Cotton Thread). Meadows are also useful location that gives you flowers too. If you want to spend your flowers for someone else - you can slowly up friendship level by gifting Cotton Threads (+3).
Preferences
| | |
| --- | --- |
| Favorite (12 points) | Any Plush item |
| Love (8 points) | |
| Like (5 points) | (no changes) |
| Pretty (3 points) | |
| Neutral (1 point) | Any Chockin Shape |
Messages
Stranger
Item: x5 Cotton
Message:
Ally
Item: x2 Eyed Cotton
Message:
Friend
Item: Scarf-like Thing
Message:
Best Friend
Item: Plushy Tori Junior Charm
Message:
Soul Mate
Item: Torimori Plush - Little Assistant
Message: