Boroto's Workshop
From Tori Wiki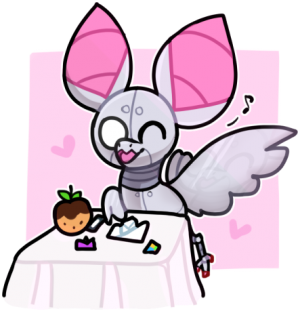 Boroto's Workshop is a location where you can craft new items.
How to Use
This workshop lets you take your own items and use them to craft something new. This is done by using the !!create command. The items used to craft it will be used up in the process. Each item you can make has a chance of exploding when you try to craft it. Your items won't be used up if this happens, but the workshop will closed for cleaning for 1-3 hours after this happens. You don't necessarily have to wait, however; sweeping the workshop with a Pretty Broom will remove an hour from the cleaning time.
Some items require owning specific Tools to craft. These tools don't need to be equipped and won't be used up afterwards. Just having it in your inventory is enough.
Commands
!!create (amount) (item)
Used to craft item(s). Note: Amount specifies how many times crafting will occur. Some recipes give multiple items, even when done only once. (!!create 1 cotton uses 1 pom fruit to create 2 cotton, !!create 2 cotton uses 2 pom fruit to create 4 cotton, etc.)

!!sweep
Sweeps the workshop if you have a Pretty Broom equipped. Check the Pretty Broom page for more information.
Note: Commands are not case sensitive, so capitalization doesn't matter. Spelling does, however, so make sure to spell each item name exactly as is.
Craftable Items